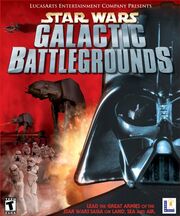 Star Wars Galactic Battlegrounds is a 2001 real time strategy game, developed by Ensemble Studios. The game was built on the Genie Engine technology that was used to build the Age of Empires II game. An expansion pack was released in 2002, featuring elements from Star Wars: Episode II Attack of the Clones.
Civilizations
Edit
The base version of the game includes six civilizations from the Star Wars universe. The expansion pack, Clone Campaigns, added two more.
Base Game Civilizations
Edit
Expansion Pack Civilizations
Edit
Confederacy - The Confederacy of Independent Systems (CIS) is good at both troopers and mechs.
Republic - The Galactic Republic or Old Republic is the benevolent predecessor to the Galactic Empire. They have exceptionally good Jedi and clone troopers.